Latest News/Events
22.05.18
ECO-UNESCO Young Environmentalist Awards
Project Co-ordinator: Fiachra Keogh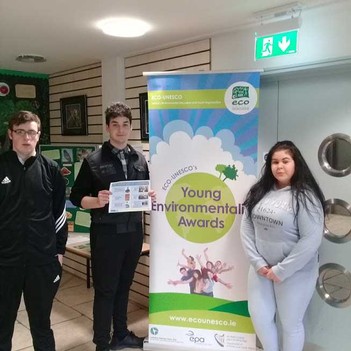 Leaners at ECO-UNESCO Young Environmentalist Ulster Eco Den


Learners at Cavan Youthreach have recently been very successful at the ECO-UNESCO Young Environmentalist Awards where they won the Senior ECO-Community Development Award.

After presenting their project, The Human Cost of Electronics, at the Ulster Eco Den at Lough Neagh Discovery Centre in March, students at Cavan Youthreach were selected as finalists for the Young Environmentalist Showcase and Awards 2018. The event was held in The Round Room of the Mansion House, Dawson Street, Dublin 2 on Tuesday the 22nd May with Cavan Youthreach winning the ECO-Community Development category.

A team of students showcased their project, which is aimed at promoting peace and justice in the Democratic Republic of Congo, by informing people on how their behaviour as consumers of electronics and jewellery can impact the lives of people living there. The students researched the issue, contacted agencies working in the field and designed a project plan. They created a presentation, which is available to view on Youtube, held an awareness event at the centre and sent 100's of emails to relevant companies who do business in the DRC. As a result of the campaign, Cavan Youthreach passed a General Resolution to favour conflict-free products.

According to learner Robert Sivak
"If you own an electronic device or have an interest in the rights of women and children, then you should be interested in the Democratic Republic of Congo"

16.05.18
Let's Talk About Drugs
Project Co-ordinator: Rossa Gaffney

The Drugs.ie 'Let's Talk about Drugs' National Youth Media Awards is an annual competition which encourages discussion of drug-related issues by inviting young people to produce a piece of original content relating to drug and/or alcohol use. Five students from our centre entered some inspiring content and all received a certificate of completion.

Huge congratulations to Martin Maughan who won first prize in the article 15-17 yrs category and our group entry which consisted of Kathlin Maughan, Natalie Mongan, Martin Maughan, Christopher Clail who finished second in the audio category. Well done to all who participated.

The Awards Ceremony for the winners and runners-up took place on16th May 2018 in the Department of Education Clock Tower Building, Dublin 1. Shane Coleman, from NewsTalk FM was the guest of honour on the day.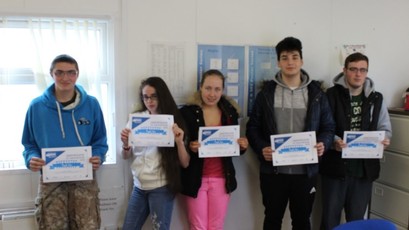 Learners from Cavan Youthreach accepting their awards

30.04.18
Show Racism The Red Card
Project Co-ordinator: Fiachra Keogh

Students from Cavan Youthreach were awarded a certificate and won tickets to see Ireland versus the USA at the Show Racism the Red Card Event at Tallaght Stadium on Monday 30th of April for their audio-visual piece entitled Vumbi.

The students were inspired to form a team and create the piece after interviewing a refugee, Imani Tutu, who was living in Cavan. The team of students wanted to get to know Imani and to welcome him and his family into the community. They created an audio-visual piece entitled Vumbi, which tells the story of Imani's people and how they ended up in Ireland. Team leader Martin Maughan said

"I hope our project will promote tolerance and acceptance of refugees worldwide and increase understanding of why refugees have to flee their home".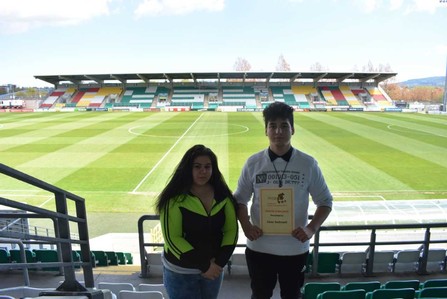 Two Cavan Youthreach learners being awarded SRTRC certificate (Picture taken in Tallaght Stadium at SRTRC Event)

20.04.18
Young Social Innovators - The H.A.P.P.Y. Project
(The Help and Protect Our Precious Youth Project)
Project Co-ordinator: Jason Smith

Cavan Youthreach held a mental health day on 20th April in Johnston Library in Cavan Town. Local Youthreach learners, youth groups and school transition years where invited to attend. The event was all about promoting positive mental health, how to reduce the risk of suffering from mental health issues and how to get help if you need it.

The event was run as part of the Cavan Youthreach Young Soical Innovators Project where the group also performed a Speak-Out in Drogheda on 13th March as well as many other innovative actions to tackle this issue.

Guest speakers for the event included John Lonergan, Jamie Harrington and Gráinne Conaty. It was a great success and it is hoped to be an annual event.



C:\Users\jasonsmith\Desktop\YSI1.jpg
Error File Open Error


A Cavan Youthrech Learner interviewing Grainne Conaty, John Lonergan and Jamie Harrington





C:\Users\jasonsmith\Desktop\YSI2.jpg
Error File Open Error


Members of the Cavan Youtreach YSI team speaking out about mental health





19.04.16
Youth2Work Careers Expo
A group of students attended the Youth2Work Expo in the Riverfront Hotel, Virginia on the 18th April. The event was organised by FIT (Fastrack to IT) in conjunction with CMETB and provided career advice on the range of jobs currently available to young people. Information was given about training programmes that CMETB provide locally, which will help young people to access these jobs. The Youth2Work initiative in partnership with FIT, Microsoft and the GAA want to help drive local awareness of the emerging job opportunities in IT and related sectors in the greater Cavan and Monaghan region. Guest speakers from organisations such as Microsoft and the GAA provided an insight into how IT is being used in different industries and businesses. Staff from FIT also gave some practical workshops in areas such as creating an effective CV, job interview techniques and creating a LinkedIn profile, which students found very useful. For further information please visit www.fit.ie.



G:\WEBSITE\Youthreach Website\ObjTable\FIT big.jpg
Error File Open Error


Cavan Youthreach students attending the Youth2Work Expo

16.03.16
Proclamation Day
On Tuesday 15 March a ceremony was held a Cavan Youthreach to commemorate proclamation day. The learners worked together to create their own proclamation for 2016 which reflected the hopes of young people
in Ireland for the future. To begin the ceremony learners read the 1916 proclamation and then read their own proclamation for 2016. The Irish flag was raised above the centre and the national anthem was played. The ceremony was attended by Senator Diarmuid Wilson and the recently re-elected T.D. Brendan Smith.



G:\WEBSITE\Youthreach Website\ObjTable\flag3 big.jpg
Error File Open Error


Learners, staff and guests at the proclamation day commemoration



G:\WEBSITE\Youthreach Website\ObjTable\flag4 big.jpg
Error File Open Error


The Irish flag is raised above Cavan youthreach on proclamation day.


10.03.16
Flag Presentation in Croke Park
A group of leaners and staff from Cavan Youthreach attended a flag presentation ceremony in Croke Park on the 7 March in order to receive an Irish flag and a copy of the 1916 proclamation from the Thomas F. Maher foundation. President of Ireland, Michael D. Higgins as well many well-known Irish sports stars and celebrities were in attendance. The event included speeches, music and demonstrations by the Irish defence forces and was attended by thousands of young people from schools and centres across Ireland. The flag was brought back to the centre and will be raised on proclamation day, Tues 15 March.



G:\WEBSITE\Youthreach Website\ObjTable\flag5 big.jpg
Error File Open Error


Learners from Cavan Youthreach at the flag presentation ceremony at Croke Park



G:\WEBSITE\Youthreach Website\ObjTable\flag2 big.jpg
Error File Open Error


President Michael D. Higgins speaking at the flag ceremony in Croke Park.